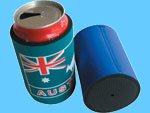 The partners in this business offer a combined 35 years of experience in the neoprene and wetsuit market. Over that time period, we have diversified from the watersports industry into promotional product to meet an increasing global demand for these items.
Our assured product quality and short delivery times are further enhanced by a very competitive pricing structure across the product range. We strongly believe you won't find a better service anywhere. This is evidenced by the growing number of orders being shipped into the USA which are now handled by us.
For customers both 'States-Side' and in Europe, you could not be placing your business in more secure and experienced hands.
We give you more in the following areas: